The CH-30 resonant chopper / optical modulator is a low frequency chopper. This is a ONE FIXED FREQUENCY electromechanical driven device with a blade which reflects or blocks a light beam with a sinusoidal motion.

The CH-30 chopper is used to chop a large diameter beam at a low frequency or for sequentially chopping a pair of parallel beams or a bundle of beams. Another important use of the chopper is in detection applications, where optical signals are obscured by noise. A fixed frequency modulated signal can be filtered from background noise. This is best achieved using a lock-in amplifier. The detected signal and the reference signal (mixed with the frequency of the chopper) cause the frequency of interest to appear as a pure dc output level. All other signals are filtered with the low pass filter. Once noise is removed, proper signal measurements can be obtained.

The CH-30 chopper can be used in ultra high vacuum, high temperature and in cryogenic environment. A chopper that meets MILITARY SPECIFICATIONS is available as a special order. A dark blade is or a bright blade is standard. A mirror epoxied on the blade turns the device to a CHOPPER FOR HIGH POWER. A special blade configuration is available as a special order.

Drive electronics with a different package, regulation and power supply options is available as a special order. Special pricing is available for OEM applications.

The ED driver and the AGC driver are both oscillators using the chopper as a frequency source. The AGC driver also provides a high amplitude stability (0.005%) and both sine wave and TTL reference signals. The PLD-1C driver phase locks a chopper to an external clock signal. The PLD-2C driver phase locks two choppers in a "master/slave" chopping system.

The following should serve as guide lines only:
FREQUENCY

(Hz)

ANGULAR MOTION
(at top of vane)

(P-P Degrees)

W (width)

(Inches)

L (length)

(Inches)

D (beam dia.)

(Inches)

6.5

30

1.00

1.50

0.60

13

30

1.00

1.50

0.60

25

30

0.78

1.25

0.60

40

25

0.78

1.00

0.40

100

15

0.30

0.40

0.30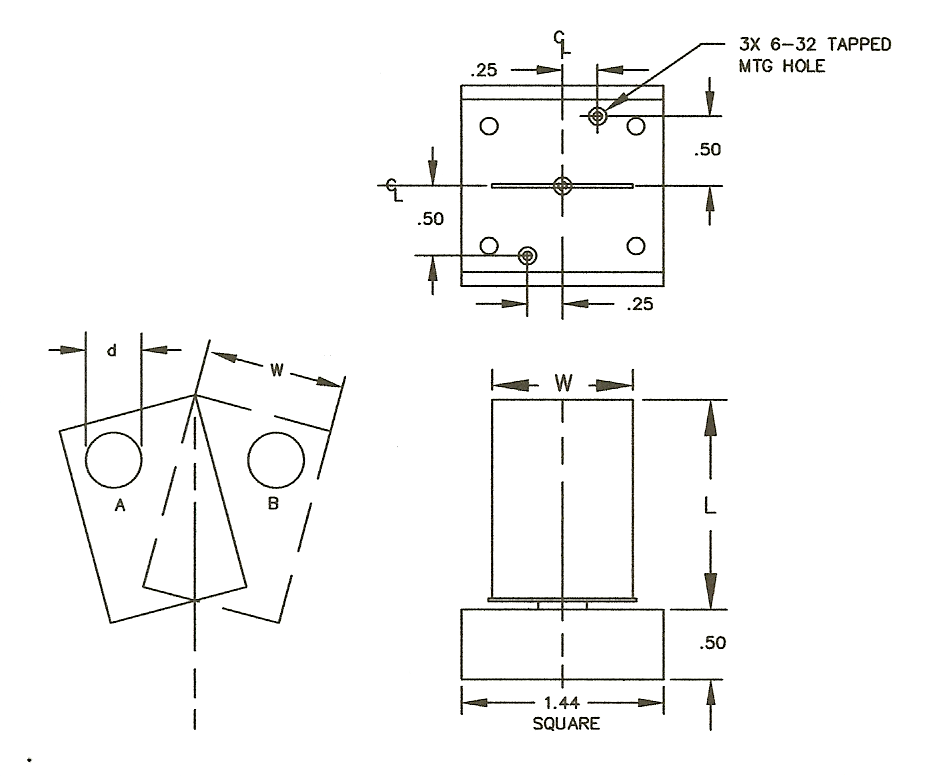 ORDERING INFORMATION
TYPE [CH-30]; VANE [B=bright or D=dark]; FREQUENCY [Hz]; VANE SIZE [W,L]; ANGULAR MOTION [P-P Deg.]
Example: PART NO. CH30-D-200-1×1.5-30. This part number specifies the model CH-30 chopper, dark vanes and a 200 Hz operating frequency, 1 inch vane width × 1.5 inch vane length and 30° peak to peak angular motion.
Drive electronics with different packages, regulation, and reference signal and power supply options are available. Special pricing for OEM applications.